Dagala Botanical Trek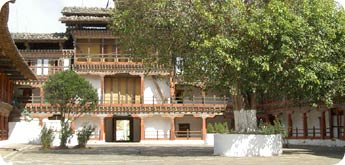 Dagala mountain range divides two prominent valleys of Thimpu and wangdi. The altitude of the plateau is around 4000 meters. It has many lakes of different sizes and in most lakes' one can find trout fish. Alpine flowers, rhododendrons, different species of pheasants, musk deer are found in abidance. The plateau is also a grazing ground for yaks in summer. Best times for trekking in these parts are May / June and Sept / Oct.
Itinerary In Detail
Days 1 Arrive Paro. Transfer to Hotel. O/N.
Days 2 Sightseeing at Paro. O/N.
Days 3 Drive to Thimpu. O/N.
Days 4 Sightseeing at Thimpu. O/N.
Days 5 Drive to Simtokha and trek to Telekha for 4 hours. Camp near Talekha Lhakhang.
Days 6 Ascent to Jezela alt. 4000m. and descent to Japhuna 3800 m. for camp, 5/6 hrs.
Days 7 Trek through rhododendron forests, small lakes and camp at Jadhuna 4100 m. 4 hr.
Days 8 Ascend to Jomigue pass 4460 m. And descend to Labatama.
Days 9 Day excursion to Hetso - Hentso lake, Jamatso and relitso lake.
Days 10 Day excursion to Jamo peak 5050 mt. And return to camp.
Days 11 Day Rest
Days 12 After crossing pagalsloptsa pass 4170 m. Descend through rhododendron and thick oak forest to Genekha for camp.
Days 13 Descent to Chakilo for 2 hours and drive to Paro.O/N.
Days 14 Day trip to Tiger nest. O/N at Paro.
Days 15 Transfer to airport to fly to Kathmandu

Note: We can customize this trek according to your travel needs.