Transport & Communications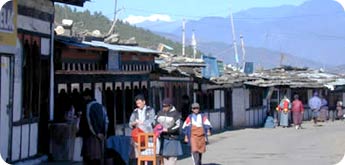 Bhutan's total netwrk measures about 3,200 km and the main routes consist of an east-west highway and four north-south highways. The road network connects all dzongkhags and 16 dungkhags. Major towns and villages are also connected by motor roads. However, some areas can only be reached by mule tracks, foot trails, and cantilever and suspension bridges. Although horses are the main beast of burden, yaks and oxen are used for transportation in some parts of Bhutan.The only airport, at Paro, is in regular use. The national airline, Druk Air provides services to Dhaka, Kathmandu, Delhi, Calcutta and Bangkok.
Telecommunications services consisting of telephone, telegraph, telex, facsimile and E-mail, including the international telephone links, are available to the dzongkhag headquarters throughout the country except a few dzonkhags in western Bhutan. However, civil wireless facilities are available in all the dzongkhags.