Bumthang Central Bhutan Tour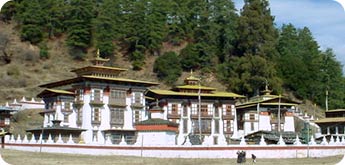 In addition to paces of interest in Paro, Thimpu and Punkha, another fascinating destination is the sacred valley of Bumtang. The picturesque drive to Bumtang takes you through regions profuse in flora and fauna, several magnificent mountain passes and places of great historic sights and ancient palaces of the ruling importance. The Tongsa Dzong is a prime example, it is by far the largest Dzong in the country and was in golden times the seats of the dominate power in feudal Bhutan. A three hour drive from Tongsa takes you up to a height of 12500 feet - The yotola Pass and then down to 9500 feet to the valley of Bumtang. Considered the most sacred valley, Bumtang as a rich areity of religious - Historical sites and ancient palaces of ruling family of the valley. The cultural trip to Bumtang also includes a 3 day walking tour to the sanctified spot where Guru Padmasabhava meditated. He was the great saint who converted the Bhutanese from pagan worshippers to peace loving Buddhist.
Itinerary In Detail
10 nights / 11 days Tour

Days 1 Fly Paro, O/N.
Days 2 Sightseeing at Paro, O/N.
Days 3 Drive to Thimpu, O/N
Days 4 Drive to Tonga, O/N
Days 5 Drive to Bumtang, O/N camp.
Days 6 Excursion / Sightseeing, O/N camp.
Days 7 Excursion / Sightseeing, O/N camp.
Days 8 Drive to Gangtye Gompa, O/N camp.
Days 9 Return drive to Thimpu, O/N
Days 10 Return drive to Paro, O/N amp.
Days 11 Departure Paro. Arrive Kathmandu and transfer to Hotel.

We can customize this trek according to your travel needs.