West-East Traverse Bhutan Tour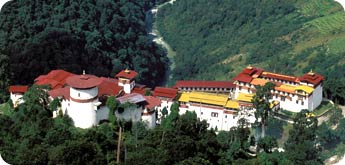 West-East Traverse Tour - This tour takes you right across the country along the lateral highway and gives you glimpse of ethnic groups of drukpas different in their dialects and customs. It offers you maximum coverage of the country.
Itinerary In Detail
Days 1 Fly Paro, transfer to Hotel, O/N
Days 2 Sightseeing, at Paro, O/N
Days 3 Visit to Tiger nest. O/N
Days 4 Drive to Thimpu, afternoon sightseeing. O/N.
Days 5 Morning sightseeing. After lunch drive to Punakha over Dochula Pass.
Days 6 After sightseeing of Punkha Dzong, drive to Tonga for about for about 4 hours. O/N
Begin your trek to Gogona.
Days 7 Morning a visit the Tonga Dzong and a short walk to the Ta-Dzong (Watch Tower) with some leisure time in Tonga Bazaar. After 3 hours drive to Bumtang Valley across the Yotongla Pass. O/N.Trek to Gogona
Days 8 Sightseeing of Kurji, Tamshing, Kanchusum Lhaagang, Jakar Dzong and Chamkha Bazaar.O/N
Days 9 Morning drive to Sengar, enroute see membertso ( The burning lake) and proceed to Ura Valley. Visit Ura Lhakang. O/N at rest House.
Days 10 Drive to Mongar sightseeing of Mongar Dzong and bazaar. O/N at Rest House.
Days 11 Drive to Mongar. Sightseeing of Mongar Dzong and bazaar. O/N at Rest House.
Days 12 Excursion drives Tashi Yangtse and Gom Kora Temple. O/N at Rest House.
Days 13 Drive to Samdrup Dzongkha. On the way visit Kanglung College ( The only college in Bhutan ) Zgang to Peiri and Khaling to see traditional weaving center. O/N at rest House.
Days 14 After breakfast drive to Gauhati (India) for departure to fly to Kathmandu.

We can customize this trek according to your travel needs.