Adventure Bicycle Tour Across Bhutan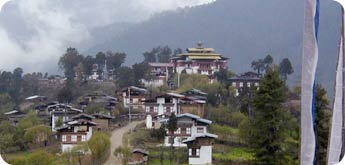 Bhutan's mountainous terrain's offer a fascinating adventure for bicycling enthusiast. The route along Bhutan's West-East Highways (appx. 600kms) is an exciting route with challenges of sumounting a new pass over 3000 m. every day. The highways winding up an shown mountains with drops of thousand of feet keep one too high an adrenaline to feel the slightest pinch of monotony. As one progress along the route, there is a discernible change in the flora and temprture when one gradually descends, from the aping height, into the temperate regions of the east. All along the route the interruption by picturesque, and almost medieval, villages and towns rich in cultural spots make a welcome diversion.
Itinerary In Detail
16 nights / 17 days Tour
Days 1 Arrive Paro. Transfer to Hotel. O/N.
Days 2 Sightseeing at Paro. O/N.
Days 3 Commerce cycle tour to east across the dochula Pass. Camp at Khuruthang.
Days 4 After visit to Punkha Dzong, continue cycling towards Gantaya Gompa. O/N.
Days 5 Cycle across Pelela Pass towards Tonga. O/N.
Days 6 Cycle up to Yotola Pass and then down to Dumkar and Chumi and onward to jakar.
Days 7 Sightseeing of Jakar valley.
Days 8 Cycle to Ura and then to Sengor. O/N
Days 9 Cycle up the pass and then down to Kuru Zam.
Days 10 A short climb to Mongar.
Days 11 Across Korela pass to Tashigang, the administrative headquarters of Eastern Bhutan.
Days 12 Day trip to Kanglung college Bhutan's only English medium University. O/N at Tashigang.
Days 13 Return trip by bus to Mongar.
Days 14 Return trip by bus to Tongsa.
Days 15 Return trip by bus to Thimpu.
Days 16 Thimpu Sightseeing
Days 17 Transfer to Paro airport to fly to Kathmandu.

We can customize this trek according to your travel needs.