Tharpu Chuli (Tent Peak) (5,663m/18,575ft.)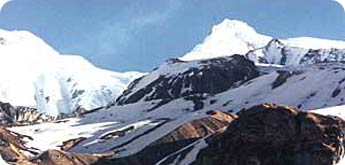 Area: Annapurna Sanctuary in the Annapurna Himal.
Locally known as Tarphu Chuli, Tent Peak is situated in the heart of Annapurna Sanctuary and is among the few snow-clad summits at this height range in Nepal. This peak offers an ideal opportunity for those who want to summit a Himalayan peak, but who may otherwise be hesitant to try a higher peak as a Himalayan debut. Besides providing an interesting climb combining glacier travel, face climbing and tip-toeing on knife ridges, a climb on this mountain offers an unparalleled viewof the entire Annapurna Sanctuary a breathtaking circle of hanging glaciers and moraines surrounded by some of the highest peaks on earth. The normal route follows the North-West Ridge to the summit although the mountain has been climbed via the South-East Ridge as well as South-West Face.
Itinerary In Detail
Days 1 Drive from Pokhara to Nayapul.
Days 2-4 Trek Poon Hill and Chomrong.
Days 5-7 Trek to Annapurna Sanctuary.
Days 8 Rest and exploration day.
Days 9 Trek to Tharpu Chuli Base camp.
Days 10-13 Climb Tharpu Chuli.
Days 14-18 Return trek to Pokhara
Days 23-26 Trek to Everest Base Camp
Days 27-30 Return trek to Lukla and fly to Kathmandu.

We can customize this trek according to your travel needs.