Kongma Tse (5,849m/19,185ft.) Peak Climbing and Mountaineering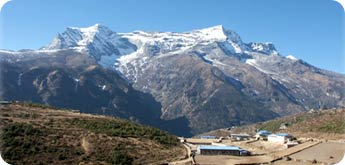 Area: Khumbu Himal in the Everest Area.
Formerly called Mehra Peak or simply Mehra, this attractive mountain rises to the north of the Kongma La above the Khumbu glacier opposite Lobuje, and is one of several small summits, including Pokalde, that make up the long South-West Ridge of Nuptse, between the Khumbu and Nuptse Glaciers. Seen from Gorak Shep, the summit has a diamond shaped hanging glacier above a steeply inclined rock wall that makes up the mountain's North Face, which is in turn slashed by a diagonal ice ramp leading to the lower edge of the glacier.
From the south the mountain is much more approachable. Seen from the lakes east of the Kongma La, a small, stepped glacier descends from the summit between long, rocky arms that make up the mountain's South and South-East Ridges. The margins of the glacier provide the normal route of ascent.
As with Pokalde the views from the summit are spectacular, especially so because of the nearness of the massive south face of Nuptse. The views northwards towards Pumori and the Lho La are also outstanding.
Itinerary In Detail
Days 1 Fly Kathmandu to Lukla.
Days 2-8 Trek Namche-Thyangboche-Dingboche.
Days 9 Establish high camp near Kongma La.
Days 10 Climb Kongma Tse peak.
Days 11 Trek to Gorakshep
Days 12 Climb Kalapattar and/or visit Everest Base Camp.
Days 13-17 Return trek to Lukla.
Days 18 Fly Lukla to Kathmandu.
This peak can be combined with others like Phokalde, Island Peak, or Lobuche East. The trekking route can include crossing the Chola pass into the Gokyo valley.
We can customize this trek according to your travel needs.