Mera Peak (6,654m/21,825ft.) Peak Climbing and Expedition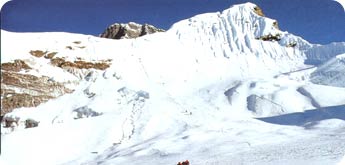 Area: Hinku Valley in the Everest Area
Mera peak is considered one of the major and popular trekking peaks in Nepal. The Peak itself rises to the south of Everest. The ascent of the peak is technically straightforward, however, the heavy snow and the maze of crevasses can make the way longer the panoramic views of Kanchanjunga, Chamlang, Makalu and Baruntse sweeping around from the east and Mera peak is considered one of the major and popular trekking peaks in Nepal. The Peak itself rises to the south of Everest. The ascent of the peak is technically straightforward, however, the heavy snow and the maze of crevasses can make the way longer the panoramic views of Kanchanjunga, Chamlang, Makalu and Baruntse sweeping around from the east and
North Face Glacier from the Mera La
The base camp can be set up at 5,300m on the Hongu side in the moraine below the ice. Normally, high camp is set at 5,800m near a rocky outcrop on the Mera Glacier. The high camp proves to be one to the spectacular viewpoints in Nepal offering
Itinerary In Detail
Days 1 Kathmandu to Lukla by flight. Camp at Lukla
Days 2-8 Trek to Mera Base camp.
Days 9 Rest and exploration at Base Camp.
Days 10 Climb to High Camp.
Days 11 Climb to Mera Peak Summit. Descent to Base Camp.
Days 12-17 Return trek to Lukla.
Days 18 Lukla - Kathmandu by flight

We can customize this trek according to your travel needs.