Chhulu West (6,420m)-21days Peak Climbing and Mountaineering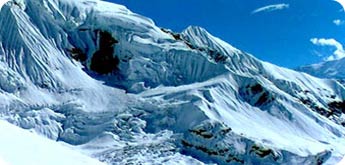 These peaks are part of the Manang Himal, which are quite rightly included in the larger Damodar Himal, the eastern limit of which runs south from Chako and Peak 6687 in a north-to-south direction along the Hunlung Khola, Nar Khola and Phu Khola. To the south it is bounded by the Marsyangdi Khola and the Mesokanta La. To the west its limit is the Kali Gandaki and to the north the Parchekya La (5,447m/17870ft).
There exists considerable confusion with regard to the name and location of the Chulu peaks and what summit actually constitutes Chulu West and Chulu East, since it is soon becomes apparent to anyone that has climbed in the range that several other summits close by, which are actually part of the Chulu massif, are not indicated on present maps of the area. For the sake of clarification, four summits can be included in the Chulu group, two of which are possible on the permit for Chulu West and two on the Chulu East permit. What is apparent is that the available trekking map is highly misleading. The highest of these peaks, marked Chulu West (6419m/21,054ft) on the trekking maps, has a recorded altitude from at least two expeditions of nearer 6400m (20,997ft); this might more accurately be called Chulu Central. The NMA gives this an official altitude of 6,429m (21,060ft).
Many climbers are confused as to the exact location of these two peaks as the range has 4 or more summits in the immediate vicinity which are unmarked in maps of this area. As a result many climbing parties have mistakenly climbed one of these peaks thinking it to be Chulu East or West. It usually understood that with the permit to climb the East or West peak an attempt can be made to the nearby peak as well.
A climb of one or both of these peaks combined with Nepal's most famous Arround the Annapurna trek make up for one of the most spectacular Himalayan trekking and climbing outings. Allow about 25 to 30 days to complete this climb and trek.
The obvious approach to this peak diverges from the main trail to the Thorung La pass past the village of Manang and Base Camp is established in a small valley to the North. From base camp the route follows a subsidery North-West ridge that leads up to the main peak. An attempt to the peak and return has be done in a single day as setting camp up on the slope above base camp is not easy. An attempt of Chulu Central peak (6,429m/21,060ft) just east of Chulu West.
Itinerary In Detail
Days 1 Kathmandu - Bensishar (823m)
Days 2 Bensishar - Bahundanda (1310m)
Days 3 Bahundanda - Change (2657m
Days 4 Change - Thonje (1920m)
Days 5 Thonje - Chame (2651m)
Days 6 Chame - Pissang (3333m)
Days 7 Pissang - Manang (3351m)
Days 8 Rest and Acclimatize
Days 9 Ledder
Days 10 Ledder - Chulu West Base Camp (5000m).
Days 11-12 Climbing period
Days 13 Reserve day
Days 14 Chulu West B.C. – Thorong Phedi
Days 15 Thorong Phedi - Muktinath
Days 16 Muktinath - Kagbeni
Days 17 Kagbeni - Jomsom
Days 18 Jomsom – Fly out to Pokhara
Days 19 Drive back to Kathamndu.
Days 20 Reserve day
The Cost Includes :
Full camping trek arrangement ( guide, cook, kitchen boy, porters, all meals, cooking and camping equipment ).
Peak permit fee.
Climbing guide and his equipment allowance
High altitude tent, ropes, snow bars, gas (high fuel) & high food.
Staff insurance.
National Park or Conservation area entrance fee.
Airport arrival and departure
Air transfer as per the schedule
All land transfers as per the schedule.

The cost does not include the expenses of personal nature, personal climbing gear, rescue by helicopter and accident insurance.




We can customize this trek according to your travel needs.