Mardi Himal Peak Climbing and Mountaineering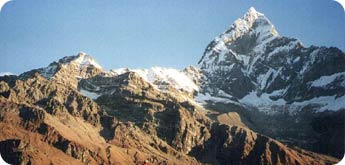 Area: Machhapuchare massif in the Annapurna Himal.
Less than fifteen miles north of Pokhara, as the crow flies, this mountain is the most southerly of the Annapurna range. From some viewpoints it seems little more than an outlier on the south-west flank of Machhapuchhare. Mardi Himal is the lowest and perhaps least climbed or visited of the trekking peaks.
Once again it was Col. Jimmy Roberts who, with two Sherpas, climbed to the summit by a route on its East Flank in 1961. The normal route of ascent reaches a col from a glaciated amphitheatre that rises above a hidden plateau; the 'Other Sanctuary', as Roberts calls it. Although another route has been made on the south-West Face, Roberts' route is the only recorded line and the one used on most subsequent ascents.
Obviously, the peak has commanding view of the Annapurna ranges and undoubtedly a spectacular one of Machhapuchhare the "Himalayan Matterhorn," better known as Fish Tail Peak. Few westerners visit the valleys and ridges south of Mardi Himal. They are steep sided and heavily wooded with bamboo and rhododendron. Above the forest high alpine pastures provide good grazing and a habitat for undisturbed wildlife. Despite it lowly altitude the mountain obviously has a great deal of potential for those interested in small-scale exploratory mountaineering and the ridges, already mentioned, present obvious climbing challenges at a reasonable standard.
Itinerary In Detail
Days 1 Drive Pokhara to Mardi Pul. Start trekking.
Days 2-5 Trek to Base Camp on the East Flank of Mardi Himal.
Days 6 Rest and acclimatization day.
Days 7 Establish High Camp.
Days 8 Summit attempt and return to Base Camp.
Days 9-12 Return trek to Pokhara.
Days 15-18 Return trek to Pokhara.

We can customize this trek according to your travel needs.