Upper Mustang Trek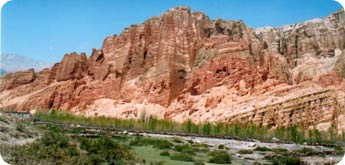 The trek into Upper Mustang is still a privileged entrance into the way of life of the true mountain people. Mustang is situated north of the Annapurna Himal on the borders of Tibet, which geographically it is part of. It was a separate Kingdom within the boundaries of Nepal as late as 1950, the "Raja" of Mustang still maintains his residence in Lo-Mantang (the region's Capital). Mustang's wealth was derived from being a major trading hub on the Kali Gandaki / Thak Khola trade route to Tibet.Mustang remains a restricted region and special permits are needed to visit, it was only in 1992 it was opened to foreigners, our destination is the exotic walled capital city of Lo Manthang . Built in 1380 A. D. by the first King of Lo, the city stands as a testimony to Lo-Manthang prosperity of rich cultural heritage. The city wall some 700 m. long and 8 m. high, has a series of 14 towers along its periphery these were guard towers in the past protecting the town from its enemies. The Kings Palace is surrounded by a maize of gompas and private houses all enshrined within the city boundary walls.
Lo-Manthang's life is deep rooted in the religious sentiments and ulture of its people where polyandry is still practiced. The township abounds with many chortens, maniwalls and onasteries. Prayer flags flutter above all the houses in, what is, an almost surreal setting. A mystical region frozen in history, Mustang remains one of the ultimate journeys. Trek Schedule.
Itinerary In Detail
Day 1

Arrival in Airport and transfer to Hotel and welcome dinner will be provided by company in the evening.

Day 2

Full day sight seeing in Kathmandu and receive the official permit from Immigration.

Day 3

Drive to Pokhara and transfer to Hotel free in Pokhara.

Day 4

Fly to Jomsom and start trek to Kagbeni (2810masl) the starting point of the "Upper Mustang". Camp at Kagbeni / 4 hrs

Day 5

Kagbeni trek to Chhuksang (2980masl) and side trip Tetang (2940masl), Camp at Chhuksang / 5hrs

Day 6

Chhuksang trek to Samar (3660masl) crossing via Dajori la pass (3736masl) , Camp at Samar / 5hrs

Day 7

Samar trek to Gheling (3510masl) with visiting Ranchen Chorten Cave at 3510masl and to Shyangmochen for lunch after Lunch 2 hours of trek to Gheling, Camp at Gheling / 6hrs

Day 8

Gheling trek to Dhakmar (3820masl) via crossing Nyi La( 4010masl) and to Ghemi(3520masl) after lunch at Ghami trek to Dhakmar Camp at Dhakmar / 6hrs

Day 9

Dhakmar trek start with cimbing up to Mu-i la and to Marang La 4125masl and trek down to Lo Geker Gompa after lunch and visiting at Lo Geker Monastery trek down to Charang Valley via crossing marang village. camp at Charang /6hrs.

Day 10

Charang after visiting all the sites trek start gradually up to wards Lomanthang. This day is short trek day so after reaching the camp of Lo manthang all the members are free for visiting around but we request you all to have one sherpa with you to find the way back to camp. 4hrs

Day 11

Lo manthang, Today we will explore in the valley of Nyaphu, Garphu and to Nechung with horse ride where are possibilities to visit 108 rooms of caves and Monasteries. We will have this day of trip with pack lunch with us such as breads, fruits, juice and tea. at the evening we will be back to Lomanthang. The round day trip will be 6 hrs

Day 12

Lo manthang, Today we will explore in the valley of Namgyal Gompa which is reaches monastery in the Lo manthang area. After here we will go further towards Tinghkar, Kimling and to Namdrul where are also to view the natural caves and landscapes. We will have this day of trip also with pack lunch with us such as breads, fruits, juice and tea. at the evening we will be back to Lomanthang. The round day trip will be 6 hrs

Day 13

Lo Manthang, today we will trek down towards Tsarang for half an hour and then we will turn left to Dhi which will be around 4 hours after lunch at Dhi we will trek to Yara. Camp at Yara / 6:30 hrs

Day 14

Today we will explore Ghara and Lori Gompa as a day hike and we will take pack lunch which was mention in Lo manthang day trip. The round trip will be 6 hrs. Camp at Yara.

Day 15

Yara we will trek towards Tangay and due to the problem of water supply we will carry our water with us from Yara and also take pack lunch and we will have it along the way. We can meet our kitchen crew at Tangay Camp at Tangay / 5hrs.

Day 16

Tangey trek towards Pa where are possibilities to get water so we will have our lunch at Pa after Pa we will trek Tetang Camp at Tetang / 7hrs.

Day 17

Tetang today we will hike to Muktinath with a pack lunch and we will cross Gnyu La 4135masl and to Muktinath via Dzong, Purang. Camp at Muktinath /5hrs.

Day 18

Muktinath we will trek down towards Jomsom but we will visit Lupra Monastery too where is a symble of Bon Religion for that we might have to take pack lunch with us. camp at Jomsom /6 to 6:30 hrs.

Day 19

Jomsom morning fly out to Pokhara (35mins) and same day drive back to Kathmandu and transfer to hotel /6hrs.

Day 20

Kathmandu transfer to Airport and departure to Home.

We can customize this trek according to your travel needs.
Cost Includes in this program:
Airport/Hotel/ Airport pick up & drop by car/Van/Bus.
Accommodation with breakfast at 3 star deluxe hotel in Kathmandu as per above Itinerary.
Kathmandu City Tours as per above Itinerary ., inclusive of tour guide, car / van
Fresh Cooking Meals during the trek in Our Own Kitchen (breakfast, lunch & dinner) including, Fresh Juice, coffee & tea.
Accommodation in Two Man Dom Tents during the trekking.
All Land Transportation to and from Kathmandu as per itinerary Car/bus/van
One highly experienced, helpful , friendly English Speaking guide, & Necessary porters , Highly Experience Cook , Kitchen boy , Kitchen Helper , Sherpa , their food, accommodation, salary, insurance, equipments
Special Trekking Permit , national park & Conservation Entry Permit fees as per Nepal Government regulation.
Domestic Flight & Domestic airport taxes as per above Itinerary where it is applicable.
Farewell dinner at Last Night in Traditional Nepali Kitchen
Rescue Service Arrangement.
All Kitchen equipment.
All camping Equipment ( Sleeping Tent , kitchen Tent , Toilet Tent , Sleeping bag , Sleeping mattress , Dinning Tent , Chair & Tables )
Cost Excludes in this program:
Lunch and dinner while in Kathmandu
Travel Insurance for cancellation costs, accident or health emergency, evacuation, loss, theft or damage to baggage and personal effects. We strongly advise you to take personal travel insurance with Rescue Evacuation Cover.
International air fare to and from Nepal.
Nepal entry visa fee - you may easily issue the visa upon your arrival at Tribhuwan International airport - Kathmandu.
Items of a personal nature such as alcoholic drinks, cold drinks, laundry and telephone calls
Trekking equipments
Tips for trekking stafffs, driver etc.