Makalu Region Trek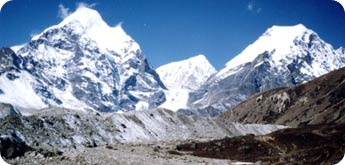 The Makalu Base Camp trek is a classic hiking through an amazing cross-section of the Himalayas, beginning at less than 1,000m. elevation and peaking at over 5,000 m. From the Tumlingtar airstrip, the path follows the mighty Arun River, whose origins are located high on the Tibetan plateau, to Num below to which a giant dam is purposed. There the route turns west and climb gradually to the Tashigaon. At around 2500 m it is the last settlement, still formed by the Sherpas. Above Tashigaon the terrain becomes more challenging. One crosses through two high passes, Khongma La and Shipton La (4,500m) with another, Barun La to go before reaching base camp. The view from high are worldly; 360 degree panorama of Everest and the Khumbu Himal, Makalu and Kanchenjunga and north onto Tibet. Crossing through the forests of birch, rhododendron and oak and you reach the alpine meadow of the Barun Valley.
Makalu Base Camp Trek
This trek takes up deep into the eastern Himalayas, providing some of Nepal's most unseen and amazing scenery.From Tumlingtar by walking north, up the Arun river,Sedwa and Num, crossing Shipton La (4127m) into upper Barun Khola valley for a close look at Makalu(8475 m) and chamlang (7290 m).
more...
Makalu Sherpani Col Trek
The trek starts from Tumlingtar either by fixed wing or by Helicopter depending upon the weather conditions.The trail leads upstream along the Arun Kosi across the terraced fields and villages to reach Chichira. We leave the main trail and cross the Arun River to Tashi Gaon. We go upstram to Makalu b.c
more...