Ganesh Himal Region Trek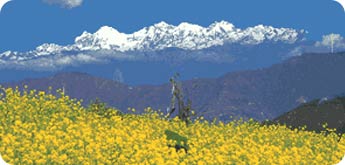 Between Kathmandu and Pokhara are three major groups of peaks: Ganesh Himal, Langtang, Manaslu and Himal Chuli and the large Annapurna Himal. This trek is recommended by many trekkers though it is not as popular as Annapurna and Everest. It is famous for Tamang Culture, spectral views of mountains, rhododendron forest and a convenient distance from Kathmandu.
Ganesh Himal Trek
The high valleys north of the Ganesh range on the Tibetan border are the complete wilderness and away from much of the trekkers.This very trek is newly introduced by us and all of our clients are lucky enough to obtain the permission to enter this beautiful area. The trail starts from Bettrawati following the upper valley landscapes. You will be witnessing the panoramic views of many majestic mountains,
more...
Gorkha Siklish Trek
This exhilarating trek has been researched to ensure the most spectacular views of the Annapurna Range and Lamjung Himal.This low altitude trek cuts through an area rarely visited and traverses a variety of terrain from low land villages and terraced fields up to Nepal largest Gurung village of Siklis.
more...