Pokhara Places to See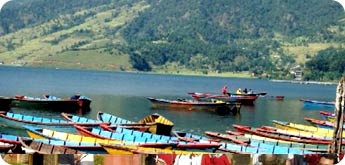 Millions of people travel thousands of miles in the search of Heaven or Paradise on Earth ,fully unaware of the existence of a corner of real paradise. Pokhara valley is situated at an altitude of 827 meters from sea level. This is one of the picturesque spots of Nepal. Its lovely lakes and mountains enhance the beauty of the valley. Pokhara is situated 200 kilometers west of Kathmandu. It is linked by Air and by road from Kathmandu and the ndian border Sunauli. Pokhara offers magnificent views of Dhaulagiri, Fishtail, Manaslu, five peaks of Annapurna and others. This is one of the few places in the world to provide such a dramatic view in a sub-tropical setting. The nearest snow-capped mountain, Fishtail, is less then 30 kilometers from Pokhara. Pokhara's numerous lakes offer fishing, boating and swimming
Climate of Pokhara
Pokhara has a pleasant climate and can be visited any time of the year. Even during summer, the temperature does not rise above 30-32 degree Celsius. And as a rain begin, the temperature goes down considerably, cooling the valley.
Access to Pokhara
Pokhara is situated 200 kilometers west from Kathmandu and is well connected by road and also by air. Pokhara can be reached in 6 hours bus ride and just 30 minutes by Airplane from Kathmandu. And it is also connected with Indo-Nepal border. There is daily bus services from Pokhara to Indian border of kakarvitta in the east, Birjung, Biratnagar and Sunauli in the middle part, Nepaljung and Mahendra Nagar in the west.
Caves and Water Falls in Pokhara
Caves and Water Falls in Pokhara
Mountains and Hills in Pokhara
Like the artificial painting from east to west, the breathtaking views of the world famous Himalayan ranges of Annapurna. Dhaulagiri, Machhapuchhre and other appear so close as to make you feel that you can almost touch them. Sarankot, Kaskikot, Kalikasthan, Bharat Pokhari and the Pumdi Bhumdi Hills commands beautiful views of the valley and the mountains. The places are also vantage points to view sunrise and sunsets over the majestic Himalayan peaks.
Lakes and Rivers in Pokhara
Pokhara is also known as lake city. There are seven famous lakes - Phewa or Fewa, Begnas and Rupa being the most well known ones. the glacial river Seti, flows right through the heart of the Pokhara valley and goes completely underground at certain.