Beyond the Valley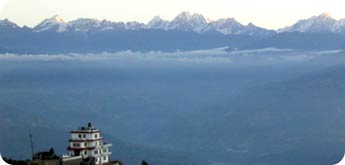 Nagarkot
Nagarkot is one of the popular place to see the sunrise and sunset over the panoramic view of the snowcapped mountain. Many people claims that we can see the Mt. Everest, if you have very nice binocular. It is situated 32 kilometers east of Kathmandu at an altitude of 2175m above see level.
Kirtipur
Kirtipur is 5 Km. south west of Kathmandu, the small town is relatively neglected and timeless backwater despite its proximity to the capital. At one time it was associated with Patan and then became a mini kingdom in its own right. Kirtipur's resistance was strong but eventually surrendering to the strong siege laid by King Prithivi Narayan Shah during his campaign for the unification of Nepal during 1768, the city was conquered and annexed to the great Nepal. At one time there were 12 gates into the city and traces of the old city wall can still be seen. Kirtipur's ridge is actually two hills, with a lower saddle between them. The Chilanchu Vihara tops the southern hill and has a central stupa with four smaller stupas, numerous statues and bells and Buddhist monastery building around it. At the bottom of the saddle where the hill meet is the Bagh Bhairab Temple, sacred to both Hindus and Buddhists. From the hill top nearby villages of Panga and Nagaon can be inspected.
Daman
Daman is very fantastic place as well very famous view point in Nepal whereby we can thrill capturing the scenery from makalu in the east including Mt Everest and Dhaulagiri in the west. It is located 82 kilometer east from Kathmandu at an altitude of 2322m.You can get hotel as your budget
Lumbini
Lumbini is situated 300 kilometers from Kathmandu and 190 kilometers south of Pokhara. This is a holy place because it is the birthplace of Lord Buddha. This is also known as the pilgrimage destination of the world's millions of Buddhists as well as other researchers and visitors. This is one of the World Heritage site listed by UNESCO.