Royal Chitwan National Park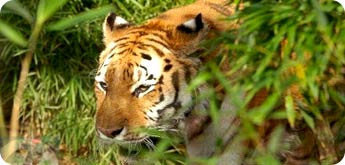 Chitwan, to reiterate, comes from the full name Chituwa Ban, meaning "Leopard Forest". It is also believed to have originated from Chitta Ban, or "Heart or deep of the jungle". Another legend has it that the name of this tropical valley comes from Sita Ban, meaning "Sita's forest". Sita was the consort of Lord Ram, the hero of the great Hindu epic Ramayana. Royal Chitwan National Park was officially established in 1973. It was included as a World Heritage Site in 1984 in recognition of its focus on people-and-park harmony and the contributions it has made to the replication model on conservation and sustainable development in Nepal and the world.
The Park is situated 140 kms south west of the Kathmandu Valley in the fertile Chitwan valley. It covers an area of approximately 932 sq. km. Two rivers, Narayani and Rapti, drain the park. The park covers sub-tropical jungles, elephant grasslands, hilly areas and floodplains. With an average rainfall of about 2,400-mm annually, the Royal Chitwan National Park is a paradise for animals and birds. Some of the rare species of animals found there are the Asian one horned rhino, gharial and mugger crocodiles, leopard and the rare Royal Bengal tiger. Chitwan is also a sanctuary for more than 450 species of birds. It is also a favorite transit territory for migratory birds such as cranes and ducks which come here, some from as far as Siberia and Tibet, to inhabit the numerous lakes and ponds of the park and its range in the winter months. This makes the park a perfect host for bird watchers and nature lovers.
Safari Info
Featured Trekking Journey